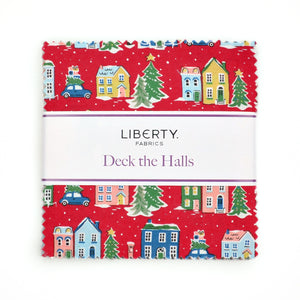 A gorgeous stack of 42 pre-cut 5" square charms of Liberty quilting cotton from The Liberty Deck the Halls Collection.
Deck the Halls
Lasenby Quilting Cotton
Deck the Halls from Liberty Fabrics celebrates the magic of the festive season. Conversational prints such as Holiday Village capture the perfect winter scene; with charming houses covered in snowfall, and cars piled high with presents and festive firs. The collection also includes Tangled Up, a display of brightly coloured fairy lights, crackers and tumbling baubles are a celebration of festive decoration, and Present Surprise captures the excitement of gift giving. No festive collection would be complete without a touch of tartan; In Check is the perfect crafting coordinate for your winter creations. Traditionally screen printed onto soft Lasenby cotton at Liberty's print mill in Italy, Deck the Halls has been designed in two colour stories. The first is a modern interpretation of frosty teals, with pops of pink and bright cheery yellows. The second colour story offers a more traditional festive palette of ruby reds, forest greens and warm creams


100%Cotton.  Please note that this is Lasenby Quilting Cotton and not Tana Lawn.