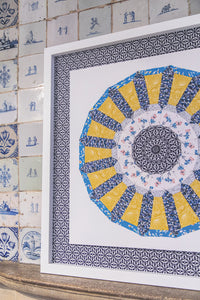 All of the fabrics needed to create the glorious Bishopsgate EPP project from Jenni Smith's new book "Quilting with Liberty Fabrics'.
It includes:-
1 yard of Bishopsgate Navy 
1 fat quarter (18"x26") of each of the following; Downshire Hill Blue, Little Love Blue, Pauline Marie Blue, Chrissy yellow and Glimmer Blue.
Pattern not included.