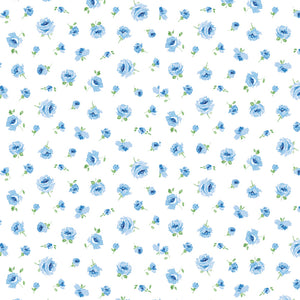 Lasenby Quilting Cotton
The Flower Show quilting collections from Liberty Fabrics celebrate the 'Best in Show', bringing together botanical designs from across Liberty's iconic print archive. Drawing inspiration from the glory and tradition of classic British flower shows, the collection features diverse flower forms united in a cacophony of colour, illustrating Liberty's rich heritage of floral design. The Flower Show Summer collection captures the beauty and magic of daybreak - a golden sun creeping over the horizon, bringing the promise of a new day. Fresh greens, cornflower blues, sunshine yellows and pink blossoms combine to create a sweet and optimistic palette, guaranteed to bring any crafting project into full bloom. The collection is traditionally screen printed onto Lasenby cotton, a base specifically developed for quilting and craft projects
100 % quilting cotton.  Please note this is Liberty Quilting cotton not Tana Lawn.