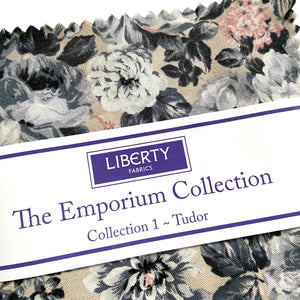 A gorgeous stack of 42 pre-cut 10" square charms of Liberty quilting cotton from the Emporium Collection.
The Emporium Collection is inspired by the historic architecture and interiors of Liberty's iconic Tudor flagship store in the heart of London. An eclectic mix of floral, paisley and geometric designs draw from ornately carved wooden details, hand-crafted tilework and the iconic timbered exterior – as well as the beautiful blooms of the flower stall out in the front.
100%Cotton.  Please note that this is Lasenby Quilting Cotton and not Tana Lawn.