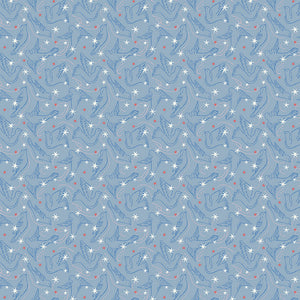 Merry and Bright- Liberty Lasenby Quilting Cotton

Designed in the London studio, the Merry and Bright collection from Liberty Fabrics is inspired by those special moments spent gathered around the Christmas tree, excitedly anticipating Christmas. The designs Bauble Bonanza and Shine Bright celebrate the ornamentation of beautiful tree decorations and flickering candle lights, whilst All Wrapped Up captures the excitement of preparing gifts for loved ones. Look out for a treasure trove of toys hidden within the tree in Magical Forest. Our classic Wiltshire Shadow in metallic gold and silver provides the perfect blender to compliment this collection – traditional colours of rich reds, jolly greens, and navy create the perfect winter palette for your sewing creations.
100 % quilting cotton.  Please note this is Liberty Quilting cotton not Tana Lawn.