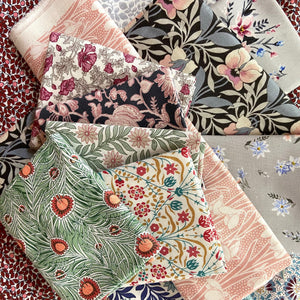 A special offer box of 15 fat quarters of Liberty Quilting cotton and some special offcuts and surprises!
Bundles will contain 15 different prints from various collections, including new and semi plains prints.  Photos are a selection of what could be included but there are many more in the mix!
This Bundle is fantastic value and would make a great addition to your Liberty Quilting fabric stash!
Each fat quarter is apx. 18"x22". 100% cotton. Please note that this is Lasenby Quilting Cotton and not Tana Lawn.